Still Under Construction but Open For Business!
NOTICE:
Staying at our park or utilizing any of our facilities or services, means you have agreed to our policies and terms of service.
Please Note…
There are currently no shade trees, landscaping is still under construction.

CDOT made the entrance too narrow, some may have difficulty. We have curb assist measures in place to help roll over the curbs as necessary. The next drive to the East may also be utilized to access the park if needed.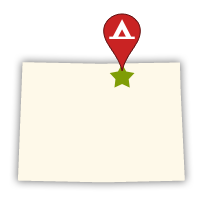 Our brand new pet friendly park is nestled on the West side of Greeley, Colorado. 15 to 30 minutes from Loveland, Fort Collins and Boulder. One hour from Denver, Rocky Mountain National Park / Estes Park and Cheyenne, Wyoming. Our park is on a highpoint and offers beautiful views of the often snow capped Rocky Mountains from most of our campsites.
We offer 4 onsite spacious ADA compliant showers with fold down shower seats. Touch free trash receptacles, paper towel and soap dispensers. Coin Op Laundry Service. Large lounge with floor to ceiling windows for exceptional lighting and views of the outdoors, basic TV and Wi-Fi (Coming Soon) All in the same onsite building, as well as a partially shaded patio out front, with a picnic table.
Shopping, restaurants and paved scenic biking / walking trails and natural areas are within walking distance. (more info)
Bowling lanes and two beautiful 18 hole golf courses are just blocks away and just a little over a mile from your campsite is the Greeley Family FunPlex, a sprawling, family friendly recreation facility with gym, indoor pool, lazy river & miniature golf!!
About the Owners
The owners, Bill Jacquot and his wife Carlene are an "Opposites Attract" story. Bill is a native of South Dakota, he has worked in the auto body trade since high school and built a long running paint-less dent and hail repair business. Automotive Appearance Specialists est. 1998.
He is handy, high energy and a "get'er done" guitar playing sort of a guy!
Carlene is a native of Colorado, retired Paramedic and missed her calling as a Veterinarian. She enjoys training dogs and horses and loves everything "critter" together she and Bill have several horses, chickens, dogs, cats and one goat, Eleanor. She is much more boring but has a great sense of humor and works mostly behind the scenes, managing all of Bill's endeavors!
LOVED this park! We stayed here for a month, they made it so easy and stress-free from start to finish. We got there late Saturday as the office was closing,... read more but they still let us go get set up before it got dark (which was very much appreciated!) and told us we could just check in when they opened up Monday. Everyone in the office was so sweet, we'd just come from a place where the customer service could curdle milk so it was great to be surrounded by genuinely nice people here. Extra thanks to Jennifer for being just the best ever, she really went above and beyond! The whole team there is fantastic but she made it feel like home, I actually felt bad leaving because of how much my dog had fallen in love with Jennifer and her kids! It fills up quickly for good reason, so make sure you get your name on the waitlist ahead of time. The park is really new and well-kept, always clean with some nice views that make it feel private and secluded (while still being conveniently near shopping like WalMart and King Soopers). There's a lot of grass around all sides, extra parking in front and back, free WIFI that actually works, nice clean laundry rooms (good prices there too, I think it was $1.50 for washers, $1.00 for dryers), huge fancy showers that are cleaned all the time. The spaces are mostly gravel, full hookups, and everyone has a good sized concrete pad with a picnic table. I don't know the length of the spots but we were able to fit our 30ft trailer and both vehicles easily. Some people said it was cramped but I feel like it was more spacious than most RV parks. And if your cars don't fit or you have guests, there's plenty of extra parking on either end of the property. My absolute favorite amenity was the MASSIVE dog park. It's probably at least 150ft across, all grass with some decorative rocky areas, 3 gates (make sure they're all closed before you go off-leash!) and 3 poo bag dispensers that are always stocked. Surprisingly clean for a dog park as well. Everyone there is so dog-friendly, from the owners to the employees to the kids in the area, it was seriously like heaven for my dog Maybel! I also want to say that this park felt really quiet and safe, a lot of the guests are traveling for work so quiet hours were never a problem. Weekdays most people had early hours, and weekends everyone barbequed and relaxed. The office takes any complaints or suspicious activity pretty seriously and follows up on things, I think several of the employees were staying there so they had a genuine interest in keeping things safe and comfortable. TLDR: Great place to stay, if I could give more stars I would. We'll definitely be coming back here if we find ourselves near Greeley again!
Sarah GB


October 17, 2022
Our stay was really nice. It being Labor Day weekend every place was booked up around town so the park was busy but we were able to find a last... read more minute stay here. The rules are extremely straight forward, short and simple. The toilet/ shower rooms were extremely clean and nice. Yes, the park still needs work, that being landscaping, however we were warned of it before purchasing and the park was still nice and has a lot of potential that I'm sure will be execute when they are finished. They put some rock down at the entrance to try and fix the entering problem (also warned about) but cutting it right isn't too hard.
Colton Darby


September 5, 2021
My husband and I checked in on August 7 and extended our stay 2 more nights. It was our first time to use this RV park in Greeley. The one... read more star lacking to make it a 5⭐️ Is because of the difficult entrance with our Cyclone 5th wheel. The owner Carlene and her husband were the most delightful owners we have ever encountered. They were very accommodating and above all KIND. This is a brand new RV park in Greeley and much needed. There are a few issues to work out as with any NEW RV PARK: 1. The entrance, 2. A change machine in the laundry and a stronger WiFi. These are not game changers for us, but nice level sites, upscale clientele and honest/kind people who run the park are and Rocky Mountain RV has these qualities. For these reasons we HIGHLY RECOMMEND this park and will stay here the next time we come to Greeley.
Mary and David Paul


August 16, 2021