Still Under Construction but Open For Business!
NOTICE:
Staying at our park or utilizing any of our facilities or services, means you have agreed to our policies and terms of service.
Please Note…
There are currently no shade trees, landscaping is still under construction.

CDOT made the entrance too narrow, some may have difficulty. We have curb assist measures in place to help roll over the curbs as necessary. The next drive to the East may also be utilized to access the park if needed.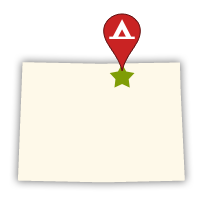 Our brand new pet friendly park is nestled on the West side of Greeley, Colorado. 15 to 30 minutes from Loveland, Fort Collins and Boulder. One hour from Denver, Rocky Mountain National Park / Estes Park and Cheyenne, Wyoming. Our park is on a highpoint and offers beautiful views of the often snow capped Rocky Mountains from most of our campsites.
We offer 4 onsite spacious ADA compliant showers with fold down shower seats. Touch free trash receptacles, paper towel and soap dispensers. Coin Op Laundry Service. Large lounge with floor to ceiling windows for exceptional lighting and views of the outdoors, basic TV and Wi-Fi (Coming Soon) All in the same onsite building, as well as a partially shaded patio out front, with a picnic table.
Shopping, restaurants and paved scenic biking / walking trails and natural areas are within walking distance. (more info)
Bowling lanes and two beautiful 18 hole golf courses are just blocks away and just a little over a mile from your campsite is the Greeley Family FunPlex, a sprawling, family friendly recreation facility with gym, indoor pool, lazy river & miniature golf!!
About the Owners
The owners, Bill Jacquot and his wife Carlene are an "Opposites Attract" story. Bill is a native of South Dakota, he has worked in the auto body trade since high school and built a long running paint-less dent and hail repair business. Automotive Appearance Specialists est. 1998.
He is handy, high energy and a "get'er done" guitar playing sort of a guy!
Carlene is a native of Colorado, retired Paramedic and missed her calling as a Veterinarian. She enjoys training dogs and horses and loves everything "critter" together she and Bill have several horses, chickens, dogs, cats and one goat, Eleanor. She is much more boring but has a great sense of humor and works mostly behind the scenes, managing all of Bill's endeavors!
Stayed at RMRVP for a couple of months and really enjoyed the stay. The park is new and is still under development but the atmosphere and staff are wonderful. All... read more good, good people. Nice and quiet location and people take pride in their areas. The shower and laundry area is exceptional. If I had any complaint at all it would be that the wifi leaves a bit to be desired if you are into streaming services. Additional routers/service points may want to be looked in to. If high WiFi speeds are a requirement for you a booster or Starlink might want to be looked into. Still a quality 5/5 ... 10/10 facility. Thanks Jackie and RMRVP!!! 😉
Chad Smith


October 5, 2022
I have had a great experience here. We have been here for four months and it has been wonderful. The staff is friendly and always helpful. The laundry room and... read more showers are always nice and clean and my dog has a nice big fenced area to run and play in!
Danielle Steele


October 26, 2022
We've been staying here since June, and we couldn't of picked a better place. The owner and staff are all family friendly. We love this place! The showers are... read more absolutely gorgeous there's onsite washer and dryers which are cleaned daily. There's a place for dogs to run and play. All the tenants are very friendly! We choose this place for our family and we couldn't be any happier…
Mercede Chavez


November 3, 2022